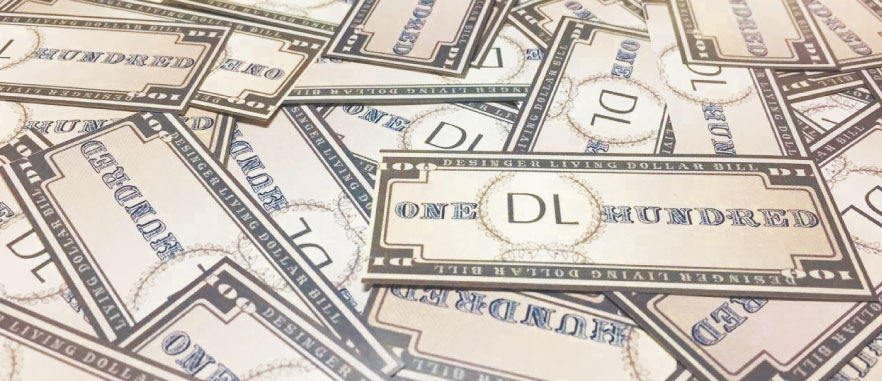 How InstaLinenSource Dollars Work
You earn INSTALINENSOURCE DOLLARS on every eligible purchase you make, every day, from
You earn 15% INSTALINENSOURCE DOLLARS (store credit) on all purchases of INSTALINENSOURCE BOUTIQUE products.
You earn 5% INSTALINENSOURCE DOLLARS on the purchase of other brands, including CLEARANCE products after coupon code reduction if there is any.
Your INSTALINENSOURCE DOLLARS are available to be redeemed once your order is shipped and your shipment notification email is sent.
Your INSTALINENSOURCE DOLLARS can be fully deducted from your next eligible order. Or you can save your INSTALINENSOURCE DOLLARS for your future orders.
Your INSTALINENSOURCE DOLLARS never expire.
You can also earn INSTALINENSOURCE DOLLARS by referring your friends to shop on www.instalinensource.com
Here is how:Here is how:
1.Refer a friend via email, Facebook and Twitter to earn your referral INSTALINENSOURCE DOLLARS.
2.Once your friend's first order is completed, you will earn $15 as INSTALINENSOURCE DOLLARS to be applied to your future order.
3.$15 referral INSTALINENSOURCE DOLLARS will be active in your account, and they will not expire.
4.You must refer a new customer to be eligible to earn your referral INSTALINENSOURCE DOLLARS.
5.There is no limit of number of friends you can refer. The more you refer the more $15 you will earn.
6.Your friends will earn 5% or 15% INSTALINENSOURCE DOLLARS on all orders they place. on www.instalinensource.com
Terms and Conditions
The InstaLinenSource logo, InstaLinenSource Rewards logo, INSTALINENSOURCE DOLLARS logo and other logos are the intellectual property of InstaLinenSource. Rewards rules are void to the extent where prohibited by law. Taxes may apply where required by law. InstaLinenSource Rewards is open to individuals of at least 18 years of age. Commercial customers are not eligible for Rewards program. Employees and affiliates of InstaLinenSource and its parent company, subsidiaries or affiliates are not eligible for this program. Store Credit or INSTALINENSOURCE DOLLARS are nontransferable and subject to current and future program terms. INSTALINENSOURCE DOLLARS are valid only at www.instalinensource.com. Store credit or INSTALINENSOURCE DOLLARS become effective and acceptance of these terms and conditions begin when an order is placed and shipped in the InstaLinenSource Rewards program. InstaLinenSource may change the InstaLinenSource Rewards rules, regulations, benefits, conditions of participation, or rates for rewards, in whole or in part, at any time without notice. InstaLinenSource may, at any time, terminate or modify the InstaLinenSource Rewards program and program terms without notification or further obligations to customers.
Abuse of the InstaLinenSource Rewards program, including failure to follow program policies and procedures, the sale or barter of INSTALINENSOURCE DOLLARS, product, promotional offers and any misrepresentation of fact relating thereto or other improper conduct as determined by InstaLinenSource in its sole judgment, may result in cancellation of the customer's account and future disqualification from program participation, forfeiture of all credits accrued, cancellation of previously issued but unused credits, and termination of the business relationship with InstaLinenSource. In connection with the enforcement of any of the terms and conditions governing the InstaLinenSource Rewards program, InstaLinenSource reserves the right to take appropriate legal action, as it deems necessary, and to recover damages, attorneys' fees and court costs.
InstaLinenSource reserves the right to interpret and apply the policies and procedures communicated in these terms and conditions. All determinations by InstaLinenSource shall be final and conclusive in each case. These terms and conditions supersede all previously published terms and conditions.
InstaLinenSource customers may receive store credit/INSTALINENSOURCE DOLLARS statements, InstaLinenSource Rewards updates and other related marketing/business correspondence via email.
A customer can view his or her account activity online at www.instalinensource.com. For information about an individual account or any other program-related questions or information, please feel free to contact InstaLinenSource Customer Service by email at info@instalinensource.com or by phone, toll free at: 1.888.879.8790
InstaLinenSource reserves the right to make InstaLinenSource Rewards and promotional offers available to select customers based on purchase activity, geographic location, program participation, or information supplied by the customer.
Privacy Policy: The information provided by the customer will be handled according to the InstaLinenSource Privacy Policy. If a customer is interested in learning more about the InstaLinenSource privacy practices, please visit www.instalinensource.com and click on the Privacy Policy link in the bottom navigation bar.

Earning InstaLinenSource Dollars
As a customer of the InstaLinenSource Rewards Program, he/she earns store credits or INSTALINENSOURCE DOLLARS for every $1 spent on any eligible product purchase. An eligible customer must sign up with a InstaLinenSource account to earn INSTALINENSOURCE DOLLARS with purchase. Purchases earn INSTALINENSOURCE DOLLARS at the following rates:
Products that are INSTALINENSOURCE BOUTIQUE brands earn 15% for every dollar spent.
Products in any other brands and categories and in the Clearance earn 5% for every dollar spent.
INSTALINENSOURCE DOLLARS (store credits) will post to customer's account within approximately 48-72 hours from date of shipment. INSTALINENSOURCE DOLLARS can be redeemed after the shipment notification is sent to customer.
INSTALINENSOURCE DOLLARS are based upon dollars spent at checkout on eligible purchases less any dollars spent on sales tax, state fees, shipping charges, delivery charges, restocking fees, the dollar amount of the purchase of Gift Cards or other charges.
INSTALINENSOURCE DOLLARS will be deducted in full by customer's choice from his/her shopping bag to apply the savings once the INSTALINENSOURCE DOLLARS are eligible to be redeemed from customer's account.
INSTALINENSOURCE DOLLARS never expire.
All INSTALINENSOURCE DOLLARS and subsequent rewards must be earned and used according to the terms and conditions of the InstaLinenSource Rewards program. InstaLinenSource has the right to make the final decision on whether a purchase qualifies for InstaLinenSource Rewards. INSTALINENSOURCE DOLLARS are not transferable and may not be combined among InstaLinenSource Rewards customers or conveyed by any means to anyone, including through a customer's estate, and may not pass to customers' successors.
There is no limit to the amount a customer can earn and redeem in the InstaLinenSource Rewards Program.
INSTALINENSOURCE DOLLARS are not valid on prior purchases, certain products and services, purchase of InstaLinenSource Gift Cards, or for tax or state fees. INSTALINENSOURCE DOLLARS are not redeemable for cash and no change/currency will be given for store credit redemption. Customers may be notified of additional ineligible products and services. Other restrictions may apply.
When an order is paid through both a credit card/PayPal/Amazon and INSTALINENSOURCE DOLLARS, the INSTALINENSOURCE DOLLARS will be applied proportionally to the purchased items. If part of the order is returned, the proportionally redeemed INSTALINENSOURCE DOLLARS will be refunded to the InstaLinenSource Rewards account for that customer.

Returning an Order Purchased with InstaLinenSource Dollars
When an order earns INSTALINENSOURCE DOLLARS which are then redeemed on a future order, if the original order is returned according to the InstaLinenSource Return Policy, a refund will be issued for the return LESS the INSTALINENSOURCE DOLLARS earned on that order and subsequently used on the additional order plus any return shipping charges.
To return an order purchased by INSTALINENSOURCE DOLLARS, you must follow the same Return Policy guidelines as all other InstaLinenSource Orders and Returns. The return will be reviewed by our return team and qualified to be in resalable condition. The redeemed INSTALINENSOURCE DOLLARS associated with the purchase will not be refunded as cash, but rather restored to your InstaLinenSource Rewards account.